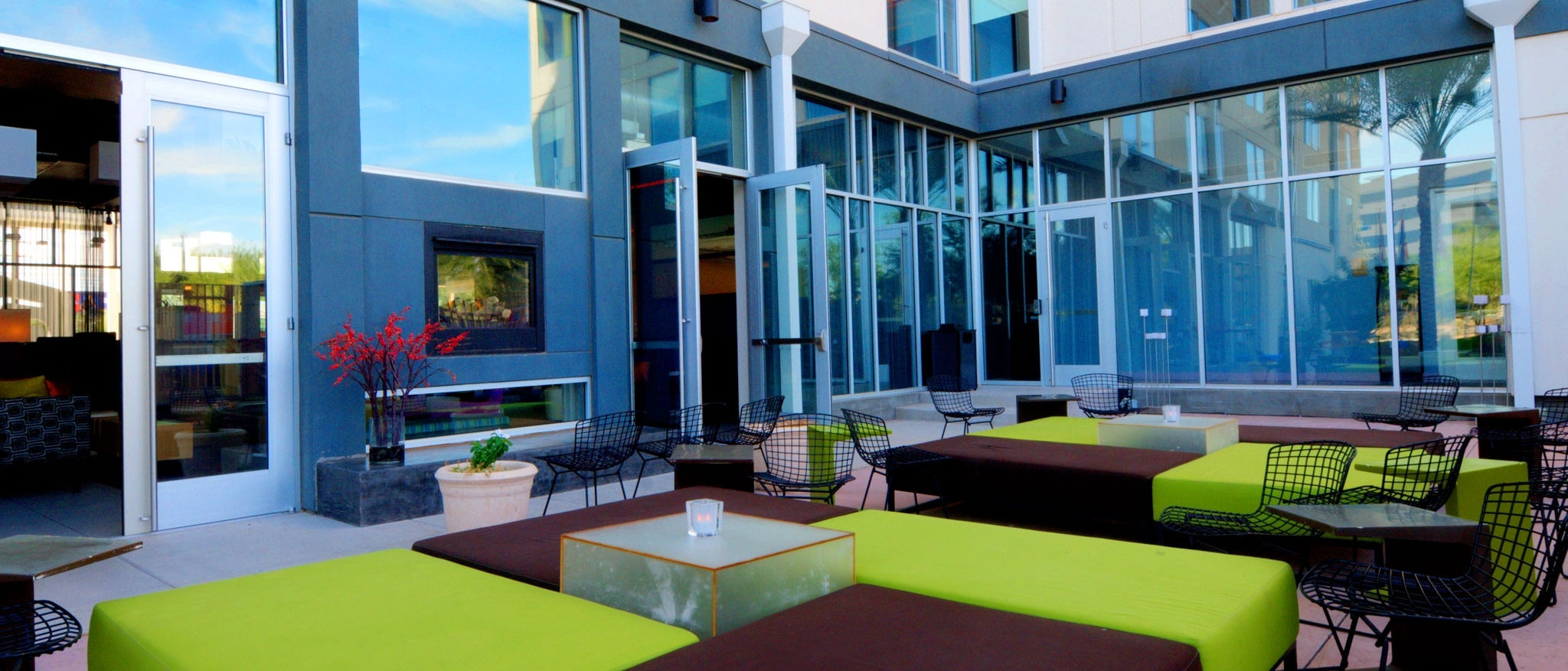 Whether you're in town to support your favorite professional teams, college sports or high school players, Aloft Phoenix-Airport Hotel is the perfect place to get geared up and show your support. The hotel is a quick 5 minute drive from the downtown stadiums, which host the Suns basketball team and Diamondback baseball team and just 15 minutes from Arizona State University campus. Plus, both of these areas are easily accessibly by the light rail so you don't have drive anywhere to see your favorite teams!
Be sure to check out our special offers page for sport event packages. And, after the victory, join us at W XYZ Bar to celebrate and mingle with fellow fans.
Phoenix Suns Basketball
As a dominating force in the Western Conference, the Phoenix Suns always come with their A-game. The US Airways Center is just a quick 5 minute drive downtown or ride on the light rail to catch all the action.

Arizona Diamondbacks Baseball
Don't miss out on America's past time this summer, enjoy an afternoon watching the Diamondbacks play ball. The Arizona Diamondbacks is the youngest franchise to ever win the World Series in baseball history. The ballpark is downtown as well so we're just a few minutes away.
Phoenix Mercury Basketball
As one of the original 8 teams when the WNBA first formed, the Phoenix Mercury have had great success in the league winning the Finals twice. Park at the Aloft Phoenix-Airport, enjoy a sip at the w xyz bar, ride the light rail to the arena to watch the game. It's that simple to watch the Phoenix Mercury when you stay and play at the Aloft.
Arizona Cardinals Football
The Arizona Cardinals havebeen heating up the desert the past couple of years with a trip to the Superbowl and the playoffs the last two years. Don't miss a minute of the action this year.

Phoenix Coyotes Hockey
The Phoenix Coyotes brings it all on the ice in their state-of-art hockey arena in Glendale, AZ.

Arizona Spring Training
Each year thousands of people flock to the Valley of the Sun to watch their favorite MLB teams warm up for the season. Arizona is host to great teams like the Cubs, the Reds, the Dodgers, the Brewers, the Rangers and more!

Arizona State University Athletics
Arizona State University has season after season of exceptional sports teams to cheer on. Grab your favorite Sun Devil gear and cheer on your team to victory!

Waste Management Phoenix Open (formerly FBR Open)
The Phoenix Open is the best attended golf tournament of every calendar year on the PGA Tour. Come to watch some of the greatest names in golf tee off including Phil Mickelson and Tiger Woods.
Marathons
Phoenix is known for it's many marathons throughout the cooler months. Tie up your running shoes and train hard because you don't want to get left in the dust.